Note: this feature is still very new and under active development. If you need everything in your event video look and work 100% perfect, please don't use these just yet.
For everyone else, here's a start of a long missing feature here on Slipmat: ability to embed layers on your event video, starting with listener avatar photos and chat. Here's the basic idea from early prototype: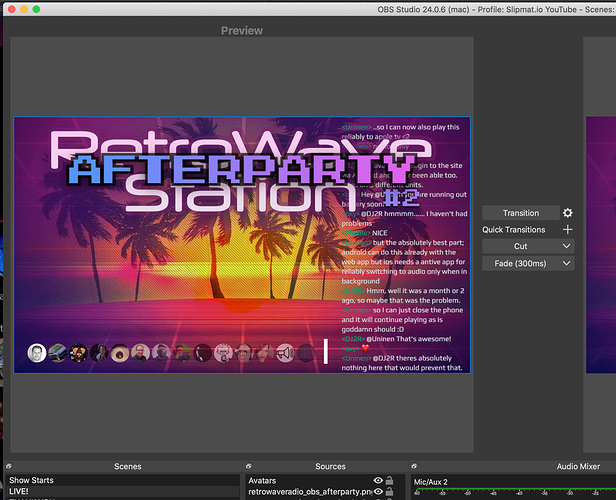 So currently there are following overlays available:
Event chat
Listener avatar photos
Latest supporters
Tip target
Currently in progress: event tip count, tip notifications, join notifications, share notifications, played requests, listeners on a map.
Currently there is no proper documentation yet as this is a very early release but using these is quite simple. In OBS you add a new "Browser" source, put in the URL you want, and tweak to your liking. (Most other streaming software allow similar workflow. If you want to help your fellow streamers, you can post instructions for other software below.) To allow easier testing, the layers will display temporary data when you don't have a live event running but update using the live event data when you have a live event running.
The look and feel of these layers can easily be tweaked with CSS as well but that involves a bit of nerdy skills. If there's something special you'd like to do or a question or suggestion about the UI feel free to add your questions below.
Things are probably going to change and live a bit, but if you want to test these out in your own events, here's the link: https://slipmat.io/m/video-overlays/ (You'll find the same link from your DJ admin page as well.) The plan is to release these properly in a couple of weeks time.
Edit: updated available overlays and renamed feature from addons to overlays. Note: new URL!