Greetings, fellow Slippers!
It's been somewhat hectic few weeks since our last release. Turns out the third world war has started and the enemy is too small to see even with a normal microscope! A couple of weeks a go I posted a quick update on our plans to ease the situation by offering DJs and listeners better tools to cope with the situation. The new features are here now, along with some more plans on how to make our community even stronger.
New features to help DJs make money
All Slipmat DJs have now two new fields in the artist profile form:
Support URL is exactly what it says on the tin. You can put any URL here and the live page (both old and new) will display a prominent SUPPORT-button that will open a new browser window (tab) to this URL. You can put whatever you like here, PayPal button URL, Patreon profile URL, Bandcamp URL or any other promo URL you like.
Note that this button is currently not linked to event chat in any way so if you get tips for example via PayPal they won't show up in the chat so you need to keep eye on whatever you link to so that you can thank your supporters when they do support you. (There is a possibility to hook up PayPal button return URL to Slipmat which would effectively enable us to make PayPal donations work exactly like normal tips. This feature may follow later but is not currently under works.)
Secondly, DJs can now add Booking details to their profile. Be short, it's not intended for your bio but instead as a short "how to contact me for bookings"-kind of information. Obviously the current world situation is not the best for event planning but it's good to have this information on display if you are a DJ that takes bookings.
Third, there is now a bulletin tab available for all events. This is a freeform field that can have rich text and links for you to communicate anything you like to your listeners during your events. Bulletin tab is also visible both on new and old live pages and you can turn it on or off per-event basis. This is useful if you have for example a record launch, t-shirt campaign or any other thing going on that you'd like to promote to your fans. If you include links in the text, make 100% they work before you start your event as you don't have the ability to change the details after the event has started.
I really hope these small enhancements will help our DJs to make a better living via Slipmat.
Pro Streamers and Commercial Support
Slipmat has been running on fumes these past few months and we've now finally starting to get together the plan for more sustainable growth. The basic service will stay 100% free but we're introducing two commercial services to help offset the running costs: Pro Streaming Engines and commercial support.
The Frankie Trial Streaming keys will continue to be available to new DJs for free, but only for 14 days. After the trial the DJs will have the option to upgrade to Frankie Pro engine either by monthly or per-event plans or use any other available streaming method for free. The details of these plans are still being ironed out but we'll announce more info soon.
Some of the planned features of the pro engines include (varies by plan):
automatic audio recording / archiving
streamer selectable 720p or 1080p video
stream forwarding / re-streaming
maybe: video recording / archiving
There's one more thing, though. Instead of forcing the DJs to pay for the service, we will add a crowdsourcing feature for listeners to support the artists. This hopefully allows every talented DJ to use Slipmat without any financial risk as your listeners can join and donate you the streamer subscription if they like what they hear.
Starting immediately there will also be commercial support available for anyone who needs it. The support tickets start from 49 EUR and you can get more info by sending me a message here on Backstage.
Completely revamped mobile page
The new mobile page at /m/ is completely revamped. You should refres your page once when visiting the new live page. The new page is fully optimized to mobile experiences and we are now very close to being able to ditch the old page altogether!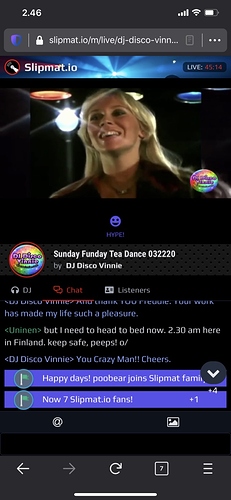 Pro tip: when tapping to the chat tab with a mobile device, tap the tab again to toggle the video off / on. Hiding the video will give you a much more comfortable chat experience. Please teach this trick to your listeners as well!
Another tip for DJs: please be mindful of your event titles. Bad title: "DJ Uninen's 90s Night Show Episode #381 | 28/03/2020", good title: "90s Night #381". Too long titles will fuck up the event window (and will be banned in the future) but they will also fuck up the event share screens when shared to places like Facebook and Twitter. Your artist name will be added to the event title automatically and any dates are also redundant as they are visible on the event page. Put any additional descriptions in the event description instead. Proper event title is at most 40 characters long.
As always this new page is still a work in progress but expect it to get quite a lot better in the upcoming days and weeks.
Our community is growing fast
We've had enormous surge of new users and DJ applications during the past couple of weeks and the pace seems to be ramping up still. This is a very positive problem to have but we now rely on our community more than ever to help each other out.
If you are an experienced Slipmat DJ, please consider becoming a mentor for new DJs. There's now a closed private forum for mentors for sharing info and communicating and I'm planning to record video tutorials this week to help with the onboarding process. Read basic instructions and join in!
Backstage is an awesome place to have conversations and hang out with likeminded friends but we've only scratched the surface here. Now if ever is a great time to ramp up the conversations here
If you have the time and want to participate, consider doing following:
posting DJ-news
posting and discussing about new songs, remixes etc
teaching cool tricks to fellow Slipmatians, be it streaming or DJ-tricks or whatever
bring your fans here as well and interact with them here in a safe and private environment instead of the horrible gardens like Facebook or Twitter
posting generic conversations about anything, really. It's our own livingroom after all!
Finally, as always I'd like to Thank You our amazing community for being awesome and making Slipmat the best place to spin and listen to DJ sets! Thank You
Stay safe out there, see you at the events!