Good Hello Slippers!
The Beta 34 is here and I'm really excited about it! This release lays lots of foundations for upcoming changes on Slipmat and we're again one step closer to public launch of Slipmat 2. We had a bit of a rough road to get here but right now the future looks bright
The live page has had lots of small tweaks and many missing features have been brought back from the old page. If nothing else, check out the chat sound notifications from the hamburger menu. (Note: you only hear the notifications of the page or tab is not in focus or visible.)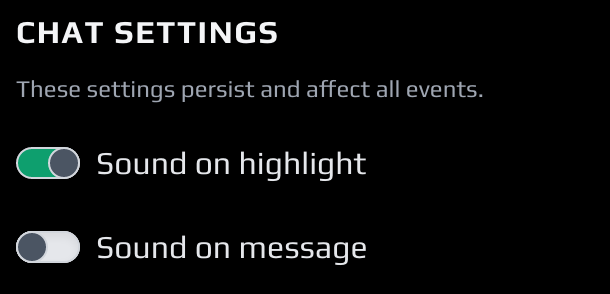 Many artist-related features have had bugfixes and the invite process has been made easier with more and better documentation. For example, a long standing issue of people getting stuck on unsecure HTTP addresses has been now fixed by redirecting all traffic automatically to https.
The new DJ Dashboard and automatic event recordings are coming next, they will be our first step towards the new 2.0 tech stack!
VIPs of this release
Slipmat would not be here without the active help from the community. Special Thank You for all Frankie Pro subscribers and also to everyone who have supported their favorite artists by sponsoring a subscription!
Full Changelog
Community: as part of an ongoing project of finding healthy social media alternatives, Slipmat now has a group on Strava. If you use an activity tracker or a watch, you can connect with other Slipmatians on Strava for free. (Just search for Slipmat from the groups and add yourself in!)
Enhancement: mobile users now have a more prominent "TOGGLE VIDEO" toggle link for toggling video on and off.
Enhancement: live page now remembers the UI state when reloading the page. This is especially helpful for mobile users.
Enhancement: the chat @-completion dialog now shows more user info including the avatar image instead of just a list of nicks.
Enhancement: the live page has had a few UI tweaks. It now looks a bit more consistent and it also displays more DJ information.
Enhancement: all live page modal dialogs now close with the ESC key. This is a standard practise on many Web sites and it adds a lot to the overall user friendliness.
Enhancement: your own user profile now displays a direct edit link for changing your details.
Enhancement: user profile for users that are also artists now displays a link to their artist profile if both of these profiles are formed correctly.
Enhancement: "Sound on highlight" and "Sound on message" -settings are now back on the live page hamburger menu.
Enhancement: HYPE / LOVE on the live page has been split into multiple different reactions.
Enhancement: links to GIFs posted to the chat now open by default.
Enhancement: PayPal tip payouts are now automated. Starting next week the payouts will be posted on Wednesdays.
Enhancement: the chat now displays an error message if the user login session is not valid. (Ie. if you can post, you know it works.)
Enhancement: invite status page now displays more info for users who have missing or invalid data in their profile.
Docs: wrote For Slipmat DJs: how to invite your mates to play on Slipmat and made few enhancements to How to start streaming in less than 5 minutes and The Difference Between Listener and DJ Profile
Bugfix: chat /whois command works again.
Bugfix: private events work again for all users. Thanks @DrBones for reporting the issue.
Bugfix: deleting user account works again.
Bugfix: deleting event from DJ dashboard now properly flushes it from cache as well. Thanks @danacat for reporting the issue.
Bugfix: video overlays have been enhanced and they no longer break with funky user names. Thanks @oxy for reporting the issue.
Bugfix: anonymous tips no longer leak tipper info on video overlays.
Security: sessions and CSRF protection happen now via secure cookies and sessions are http-only.
Security: all traffic is now automatically redirected from http to https.
Under the hood: the new frontend code is now TypeScript. The conversion from JavaScript is not yet fully done but most important bits have already been converted.
Under the hood: session cookie domain has been changed to the root domain which enables us to use one session for different sub-domains.
Admin: created an experimental datatable component for the use of new Slipmat frontend.
Admin: created a new logger package for better and easier logging for the new Slipmat frontend. This project is still somewhat experimental but we'll probably publish it as a standalone open source package soon.
Want to help?
Slipmat is a 100% volunteer-driven community project. No company is in charge, You are in charge. You can decide what features get build, and what the community looks like. If you want to help out, here's a few easy things where you can start:
invite your fans and friends to Slipmat! (Remember: every Slipmat DJ can invite other DJs. Read how to invite your mates to play on Slipmat.)
if you are tired of Facebook and Twitter, why not engage fellow DJs here at Backstage? This forum is open and intended for everyone - please feel free to post stuff and make it yours!
use hashtag #

slipmatio

on your Slipmat-related posts on social media. This helps more than you know!
finally, if you are not terrible with technology, you can become a mentor for new DJs. Just join the

#invitations

channel on our Discord chat to volunteer.
That's it from me this time – see you around!
o/