Happy 2017, Slipmatians!
It's been a while since the last update on site development, so let's dive right in on the first fairly big update of the new year.
1. The live page has been rewritten from the ground up
We've been adding features to the live event page for a very long time, and it had become quite crowded and hard to maintain code-wise. So the page was designed and written from ground up, using the very latest technologies available and focusing on simplicity and usability.
It's very hard to design a feature-heavy page to look and feel simple, but I think the end result is much better than the starting point
The work, as always, is not done yet, but we've now got good and clean foundations to move forward.
Here's what the full window looks now: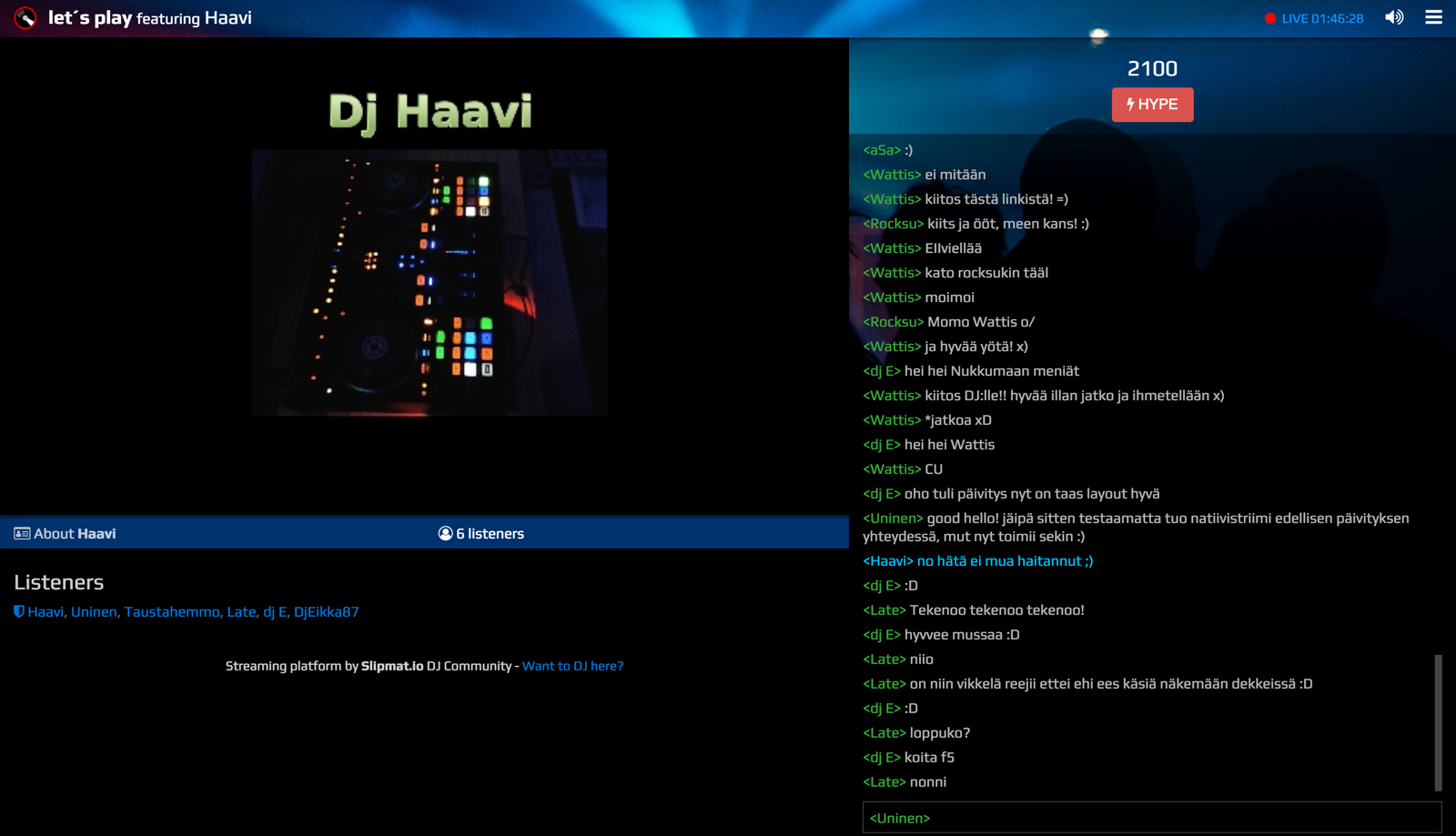 All of the previous functionality is there, but now better organized and layed out. There are two new features of the layout. First, the hamburger menu that opens to the right side of the screen: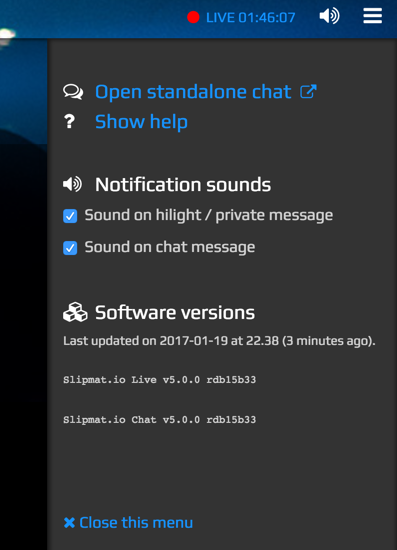 At the moment there is not much content here, but I have a feeling this will be utilized much more in the near future. Also, if you want to check out when the site was last updated, you'll find the info here
Then, we now have an action panel on top of the chat:
The most important thing here, of course, is that we now truly have the HYPE-button. Slipmat was created by Mixifam members, so why not bring back a small memory from the good times, eh?
But for a more serious note, this panel is very flexible and it changes functionality and shape depending on the event properties. If tipping and request system are enabled, they show up here. Also the DJ get's now much better, different views for these functions so we don't waste screen real estate duplicating elements for DJ admin views.
Last but definitely not least, the live page works now smarter with mobile devices and small screens. We're still far away from fully optimized mobile experience, but the page is now pretty usable for tablet-sized screens (and also displays a helpful warning message for tiny displays explaining that switching to bigger screen yields much better user experience).
2. Various software libraries and development tools were upgraded to latest versions
Slipmat uses dozens of open source libraries and tools to make the magic happen. Most of these have been upgraded during the past eight weeks bringing lots of new fetures to aid further development, fixing bugs and speeding up the code.
This is a significant change that shows little for the users, but is a huge thing for keeping the development pace steady and fast.
So, this is where we continue the journey of building the best DJ streaming platform on the planet. Exciting to have you with us – here's to another great year for streaming fun! \o/
And finally, from the bottom of my heart, Huge Thank You for the whole community and of course the awesome DJs who have been keeping up good vibes and relentlessly finding out bugs to fix and helping in figuring out and developing new features!